My anti-rhetoric Turandot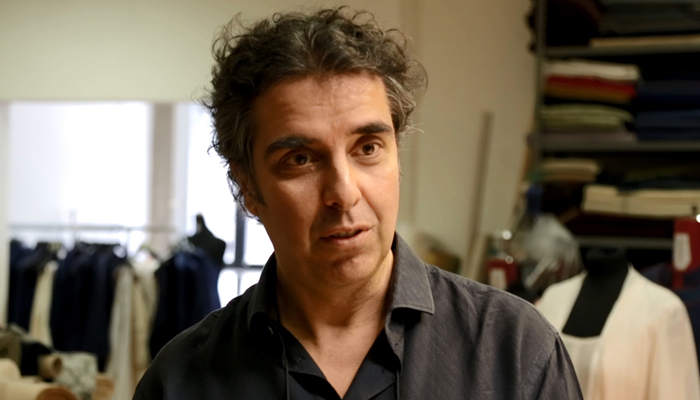 My anti-rhetoric Turandot
A conversation with Pier Francesco Maestrini
You are considered a pioneer in the field of opera theatre direction: how are you facing this new challenge in Cagliari?
It is certainly an unconventional production due to the nature of the project itself: the decision to hand over the scenery to a great sculptor inspires the aesthetics of the entire show.
The extraordinary work carried out by Sciola, who brings his musical stones on stage, has a strong architectural hallmark and combines perfectly with my idea of Turandot. It is an extremely fascinating title, that I have dealt with various times and which still interests and stimulates me. I had already conceived an "ice" version, where the protagonist, who lives in a glacial China, can gradually melt the ice in her soul after kissing Calaf. Here Turandot's heart is made of stone, it is inscrutable. China itself is petrified. But the elastic nature of Sciola's stone carries out the transformation ...
Did you already know Pinuccio Sciola?
No, I didn't and I was fascinated by his work and personality, which is integrated into his art. Very rarely has someone's handiwork had the ability to move me so deeply. We immediately felt great empathy: he had never faced such a challenge and I was the interlocutor he needed, I immediately saw the potential of his work translated into scenery.
What do you think of this Turandot?
It is a very elaborate show, that makes a great impact and has several changes of scene, and this provided the opportunity to offer a wide spectrum of Sciola's sculptures without losing fluidity. Turandot is a work of fiction: in today's productions we usually tend to soften the strong Chinese roots which nourish Puccini's vision. This Turandot therefore fully follows the track of modern interpretations: even Marco Nateri's work, which originates from the study of Chinese costumes, develops towards modernity.
When is the show set? Starting from Sciola's sound cities we come to think of Gotham City or a future scenery similar to Blade Runner…
These atmospheres are present as well, but the setting is actually strongly atemporal, certainly not referred to today. China is now very 'western', we keep to a relatively recent past, but projected towards the future.
You are almost 50 years old, and you already have a twenty-year experience on stage. You have addressed the issue of innovation in opera and generational turnover throughout your career. What is your idea about such an important question for the future of this part of our cultural heritage?
I think it's important to sink our roots in tradition, and then dare to try and overcome these references. I was lucky, I was 'born' into the theatre, my father was a director of the great lyrical tradition. I therefore take the liberty to try new ways, thanks to my knowledge, which is also musical. Anyway, I don't pursue provocation per se if there isn't a reason and most of all if I am not supported by the libretto and the score. These are my conditions.
What do you think musical theatre can offer new generations?
I hope they look for emotions: this is the sense of opera. If a story is well devised, the spectator will rarely get bored. I believe a director is a narrator, who must tell the story in a logical way, in his own way: if he achieves this goal I think any type of audience can be attracted by opera.
The director's work can also put aside the stratifications in the staging which have taken place over time. It is often necessary to proceed by subtraction, freeing the production from incrustations due to rhetoric and habit, in order to give it new life and adapt it to an ever-changing audience. Do you agree with this position?
Yes, for many years rhetoric prevailed. Then this custom was demolished, and the opposite attitude prevailed, which led us to lose many spectators. We insisted on looking for novelty at all costs. I believe renewal is necessary, but always maintaining consistency and keeping in mind what the composer wanted to obtain.
(interview by Sergio Benoni – translated by Franco Staffa)